This US patented (by Bill Gates Biolab) and designed Coronavirus has 4 HIV Genome Insertions! So Coronavirus is partially HIV virus.
Uncanny similarity of unique inserts in the 2019-nCoV spike protein to HIV-1 gp120 and Gag
https://www.biorxiv.org/content/10.1101/2020.01.30.927871v1
We are currently witnessing a major epidemic caused by the 2019 novel coronavirus (2019-nCoV). The evolution of 2019-nCoV remains elusive. We found 4 insertions in the spike glycoprotein (S) which are unique to the 2019-nCoV and are not present in other coronaviruses. Importantly, amino acid residues in all the 4 inserts have identity or similarity to those in the HIV-1 gp120 or HIV-1 Gag. Interestingly, despite the inserts being discontinuous on the primary amino acid sequence, 3D-modelling of the 2019-nCoV suggests that they converge to constitute the receptor binding site. The finding of 4 unique inserts in the 2019-nCoV, all of which have identity /similarity to amino acid residues in key structural proteins of HIV-1 is unlikely to be fortuitous in nature. This work provides yet unknown insights on 2019-nCoV and sheds light on the evolution and pathogenicity of this virus with important implications for diagnosis of this virus.
Coronavirus Contains "HIV Insertions", Stoking Fears Over Artificially Created Bioweapon
https://www.zerohedge.com/geopolitical/coronavirus-contains-hiv-insertions-stoking-fears-over-artificially-created-bioweapon
For those pressed for time, here are the key findings from the paper, which first focuses on the unique nature of 2019-nCoV, and then observe four amino acid sequences in the Wuhan Coronavirus which are homologous to amino acid sequences in HIV1:
1) proteins. The amino acid positions of the inserts in 2019-nCoV and the corresponding residues in HIV-1 gp120 and HIV-1 Gag are shown in Table 1.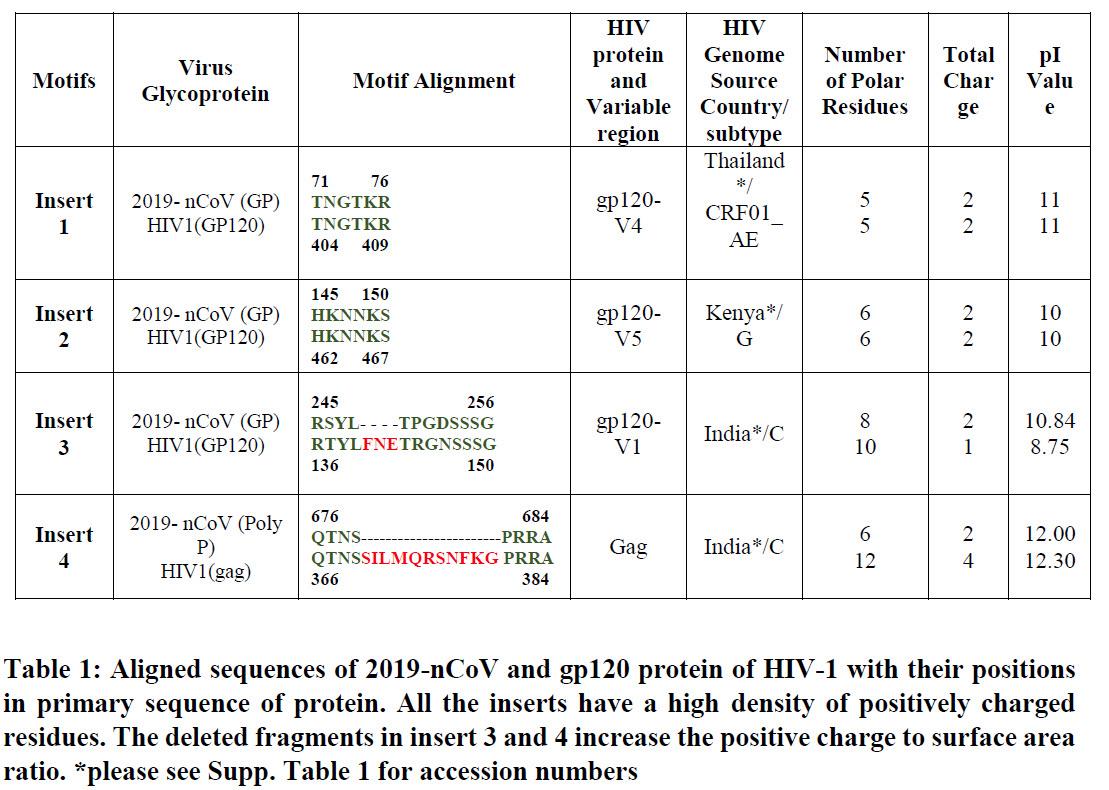 The first 3 inserts (insert 1,2 and 3) aligned to short segments of amino acid residues in HIV-1 gp120. The insert 4 aligned to HIV-1 Gag. The insert 1 (6 amino acid residues) and insert 2 (6 amino acid residues) in the spike glycoprotein of 2019-nCoV are 100% identical to the residues mapped to HIV-1 gp120. The insert 3 (12 amino acid residues) in 2019- nCoV maps to HIV-1 gp120 with gaps [see Table 1]. The insert 4 (8 amino acid residues) maps to HIV-1 Gag with gaps.
Therefore; Coronavirus Genome Design is partially HIV virus with 4 Genome Inserts. The designers of this Coronavirus in Bill Gates Biolab have decided to mix Coronavirus genome and HIV genome. That's the way bioweapon viruses can be created in a biolab.